Since 1957, Employment Horizons has led the industry with our knowledgeable operations staff and dedicated workforce in our fulfillment center.
Our services include:
Contract packaging and assembly
Food pack-repack (FDA registered)
Kitting
Labeling and re-labeling
Collating
Shrink- wrapping
Re- conditioning and salvaging
We have a flexible workforce and the necessary equipment to allow you to grow your business without growing your staff. We provide rigorous quality inspection and our customers have expressed 100% satisfaction with our services. We provide competitive pricing and offer loading docks with tractor- trailer access, daily UPS and FedEx services, a clean and dry climate controlled storage space, forklift, pallet wrapping, and light machine operations in our fulfillment center.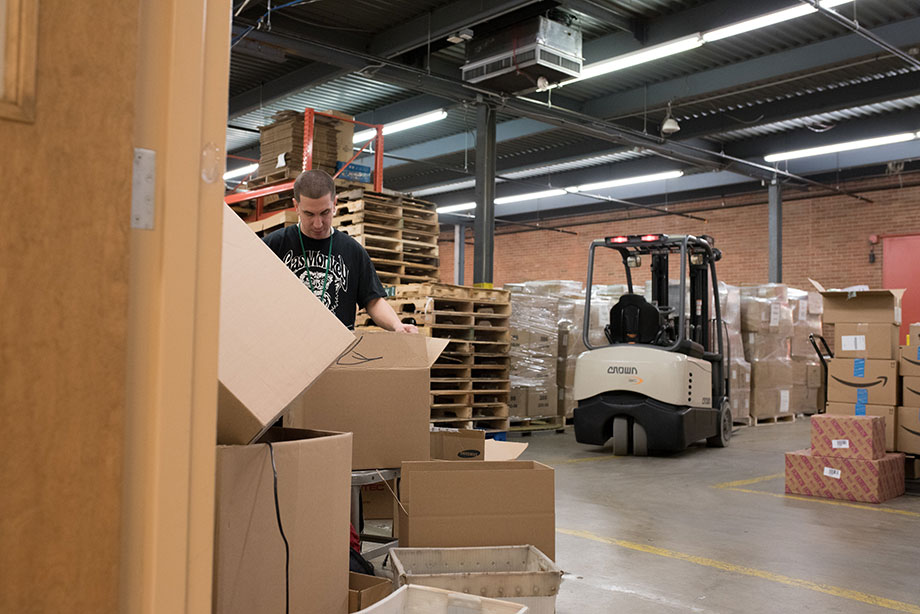 We have satisfied customers across many industries, including telecom, pharma, electronics, food, and government entities. Some of our customers include Elizabethtown Gas, The Lapp Group, several L'Oreal brands  and Altice.
Interested in our services?
Contact Samuel Castro, Director of Fulfillment and Facilities at 973.538.8822 x242 or worktogether@ehorizons.org
How do I get started?
Contact Samuel Castro to discuss your project details. This can be done using the form below, on the phone or in person, though we always invite you to come see our operations firsthand. Samuel will ask questions to best understand your needs so we're best equipped to provide you with pricing and the highest quality of service.
Packaging/Fulfillment Testimonials
The team did a great job with the pouches. Thank you for getting the order ready on time and packaging everything so nicely. The unboxing and set up was very easy because your team did such a great job.

Employment Horizons is a great partner to have – our needs are constantly evolving and the team at EH is very accommodating and quick to adapt. Thank you for being such a rock star team!

Just so you know, if I could have given you beyond excellent on the customer satisfaction survey, I would have.  LOVE YOU GUYS!!!!!!!!!!!!!!!

You have NO idea how much this has helped us for the event. Stuffing bags can be very time consuming onsite, so we are SO excited this worked out! Wesley and the team have been great to work with – kept us updated, always quick to reply, and there to answer any questions. We look forward to working together more with you all!

Employment Horizons always take pride in their work and Tiffany & Co. has been proud to partner with them for more than 10 years.